Die Cast Diaries – Chapter 6
Hello family, friends and followers,
I'd like to welcome you to another chapter of Die Cast Diaries!
In this chapter, I will be introducing you to one of the best customizers of Hot Wheels and other die cast cars and trucks in this amazing hobby culture. His pieces are classically done and have an old school feel to them as far as the paint goes. When I see his logo and his customs, I immediately think about life size cars and custom shops. The name is so fitting and the cars are throwbacks to those days and to the career that some people have in the automotive industry today. His story is incredible and so are his customs. I hope that after reading this chapter, that you will go and check out this man's creations and get in touch with him about getting one made for your collection. Please enjoy this chapter of Die Cast Diaries starring Dylan Seal, owner of Mini Chop Shop.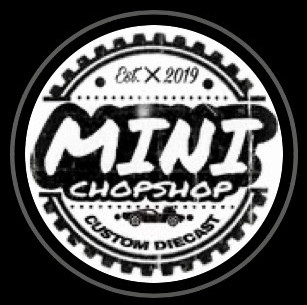 Me: What is your name and where are you from?
Dylan: I'm Dylan Seal, born and raised in good ole East Tennessee.
Me: How old were you when you started playing with Hot Wheels?
Dylan: I honestly can't remember a time when I didn't play with Hot Wheels. My brother and I used to go crazy making roads in the dirt, building cardboard garages and even playing "crusher" with a hammer, LOL.
Me: How old were you when you started collecting Hot Wheels and other die cast cars and trucks?
Dylan: It would be really hard to put a number on the age because I've been buying Hot Wheels for as long as I can remember. If I had to guess, I was probably 10 or 11 when I finally started hanging them on my wall.
Me: When did you start customizing Hot Wheels and other die cast cars and trucks?
Dylan: Somewhere around 2013-2014 is when I first put the drill to one.
Me: What got you interested in customizing die cast cars and trucks?
Dylan: I thought it would be cool to make a Hot Wheel match my mom's Mustang for a gift. So, I broke out the drill and some paint and went to town. It turned out pretty well and needed up making a couple to match some friends cars. That was pretty much as far as it went with customization for a few years.
Me: Who was your inspiration or influence that got you into customizing Hot Wheels and other die cast cars and trucks?
Dylan: I first did the Mustang for my mom because I thought it would be cool for her to have a mini me of her car. I had no idea there was a strong hobby community for customs at the time. A couple of years later, I discovered Salt City Diecast on Instagram and that led to a deep dive into the worm hole.  After seeing pages like Spoolin Street and 22nd Ave Customs, I was hooked.
Me: Do you have a background in working on cars and trucks which helps make customizing Hot Wheels and other die cast cars and trucks easier and helps with your creativity on them?
Dylan: I've done paint and body work since I was old enough to walk into the garage. I helped restore and paint old cars until I graduated high school. Then off to tech school for auto body I went. I worked for a while at one shop as a painter and then at another shop for auto body before leaving the industry after a couple of years.
Me: How long have you been customizing Hot Wheels and other die cast cars and trucks?
Dylan: After the first one around 2013-14, I didn't drill anything until I started my Instagram in late 2018.
Me: What is your specialty in customizing Hot Wheels and other die cast cars and trucks?
Dylan: I'm not sure that I could say I have a specialty. If the question was, "What do you do the most?", it would definitely be weathered matte paint jobs. I also like to get everything as close to the ground as possible.
Me: What makes your customs stand out from most of the other customs out there?
Dylan: Honestly, I don't have an answer for this one. I don't like to think my work has any qualities that stand out or above any others.
Me: Is customizing Hot Wheels and other die cast cars and trucks a hobby or a full time job for you? If it's a full time job for you, what is the name of your business? If it's a hobby, what are your social media outlets where people can view and possibly buy your customs?
Dylan: Mini Chop Shop most definitely started as a way to share my customs. Now, I have been blessed that it has turned into a way to fund the hobby itself. As most customizers could tell you, it's not a cheap hobby. Most of what comes from the customs I sell goes right back into Mini Chop Shop. From parts and materials to hats and stickers.
Me: How much success have you had selling your customs?
Dylan: I have been blessed with collectors from all over the world purchasing my builds. It has allowed me to push myself further on my bigger builds than I could have possible, and for that I will forever be beyond grateful.
Me: Is selling your customs a second income stream or just a way to fund your customizing passion?
Dylan: Primarily, selling customs funds Mini Chop Shop. It doesn't sound like much when you say $6 for a set of wheels, but when you say $60 for 10 sets it sounds a little different. When you start to add $140 for an airbrush, $200 for a compressor, $7 for each 4oz bottle of paint, etc., it definitely adds up. That's just customs alone. The ability to offer hats that cost $200 to get started, stickers that are $70 for 50, etc. The totals seriously starts to increase.
Me: Which casting is your favorite to customize?
Dylan: My all time favorite casting to customize shouldn't come as a surprise, lol. In fact, I'd say my followers are getting tired of seeing them, but it's by far the custom '62 Chevy truck. I'm a die hard Chevy guy and I've been in love with these since I first saw them. I love doing them any way from basic wheel swaps, to bodied, chopped, blown full customs.
Me: Finally, what are your top 5 Hot Wheels of all time?
Dylan: That's seriously a hard one. The '62 Chevy has to take the top spot. Second would be the new Nissan Hardbody because Mini Trucks have been a passion since I first discovered Mini Truckin' Magazine when I was a kid. Third would be the RLC Willy's. It's just an outright gorgeous casting no matter how it is dressed. Fourth spot goes to the new GMC Cyclone. I've owned 9 S10's.  A Cyclone is one of ultimate dream cars. Finally, rounding out the fifth spot is the '66 Nova. It's one of the most beautiful cars Chevrolet had made and Hot Wheels nailed the casting with everything from the stance to the crisp body lines.
Me: Thank you for participating in my blog and helping spread the world of customizing Hot Wheels and other die cast cars and trucks to the general public. I appreciate you, your time and your customs. I hope to own a few for my growing and ultimate collection.
Dylan: Thanks for the opportunity, it's greatly appreciated.
In closing, I just want to say that what you're about to see is going to prove that customizing die cast cars and trucks is an art and it takes talent and skill to make these little cars look so real and life like. This man's talent with paint and body work are, in my opinion, at the top of the customizing world of die cast cars and trucks. So, for your viewing pleasure, here are some pics of Mini Chop Shop customs.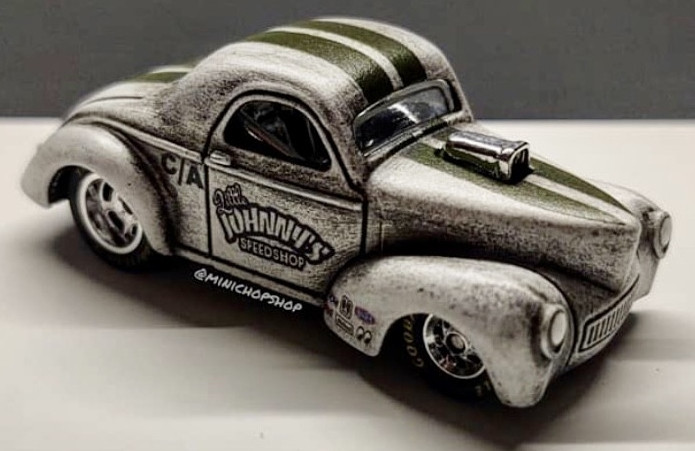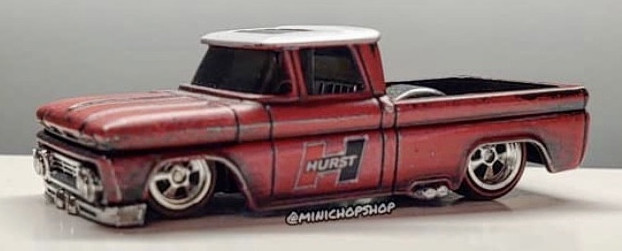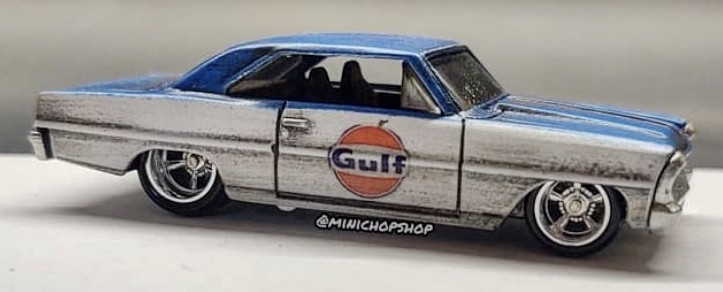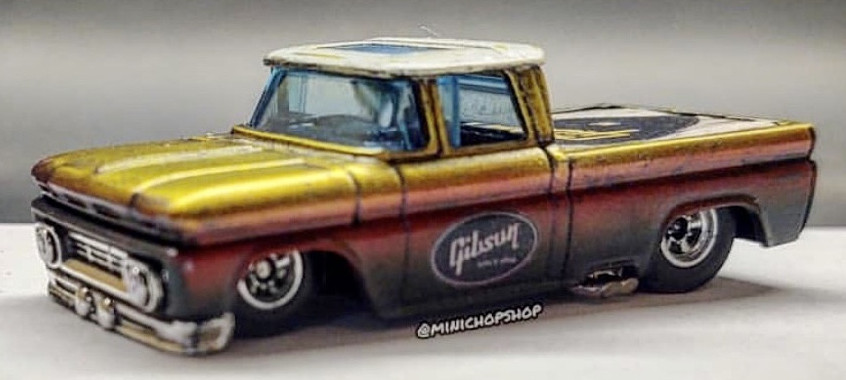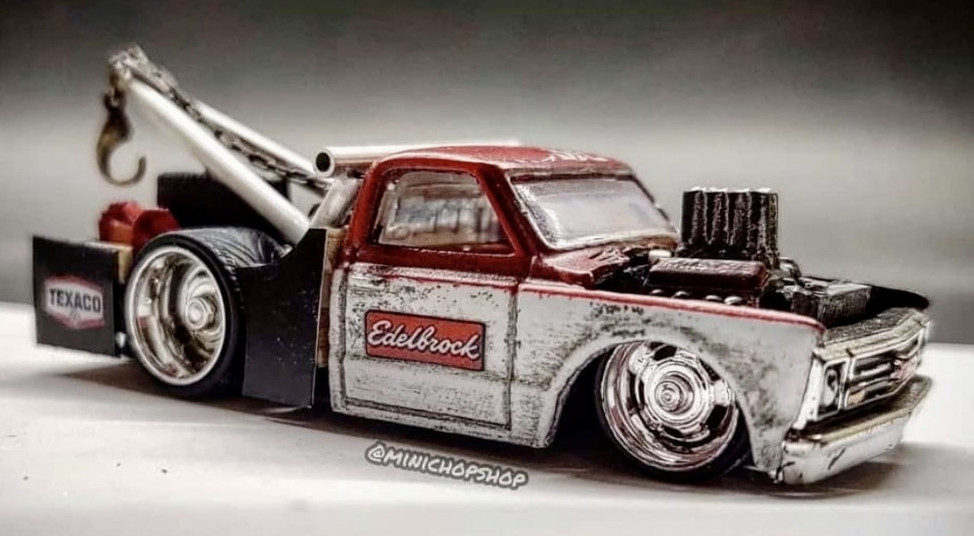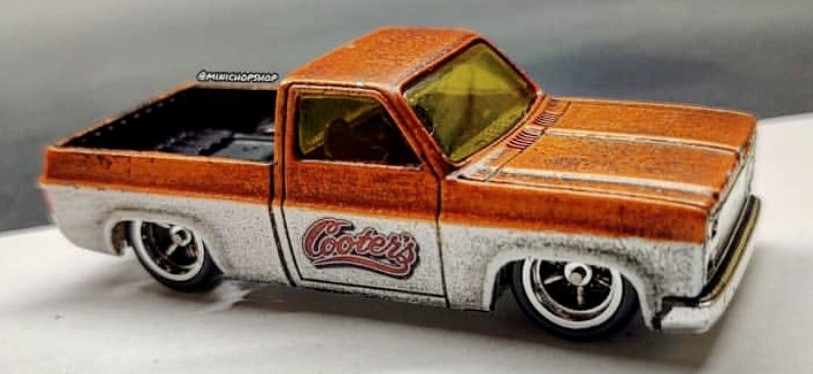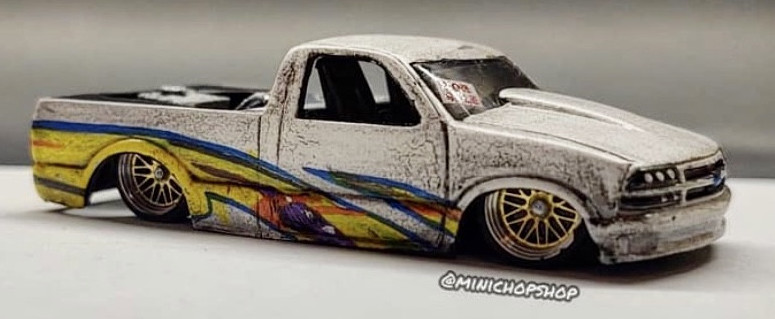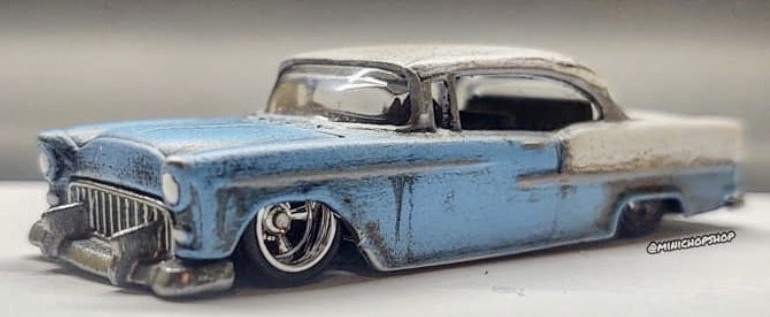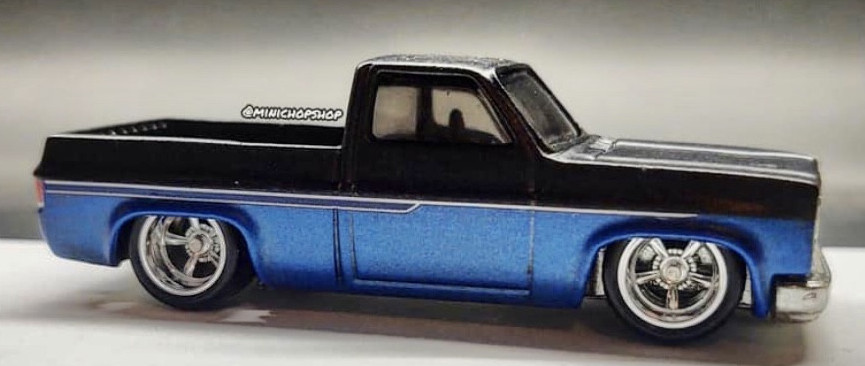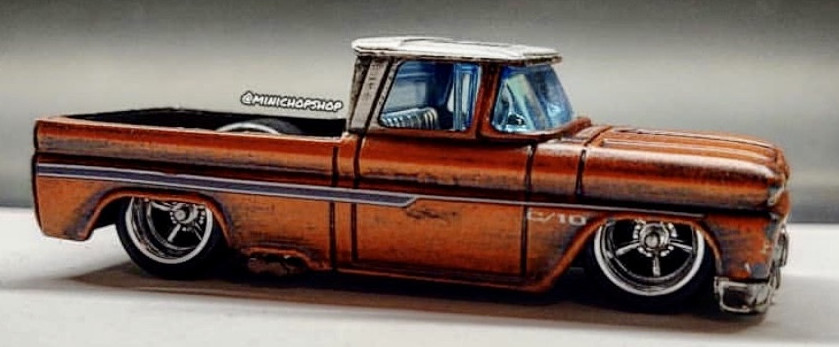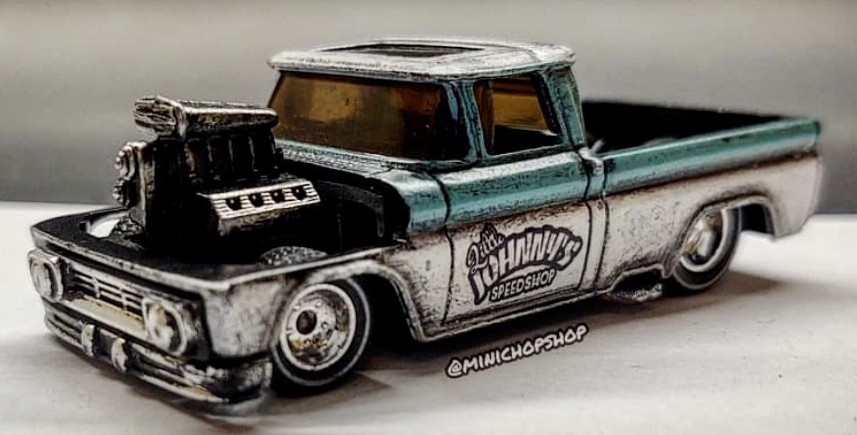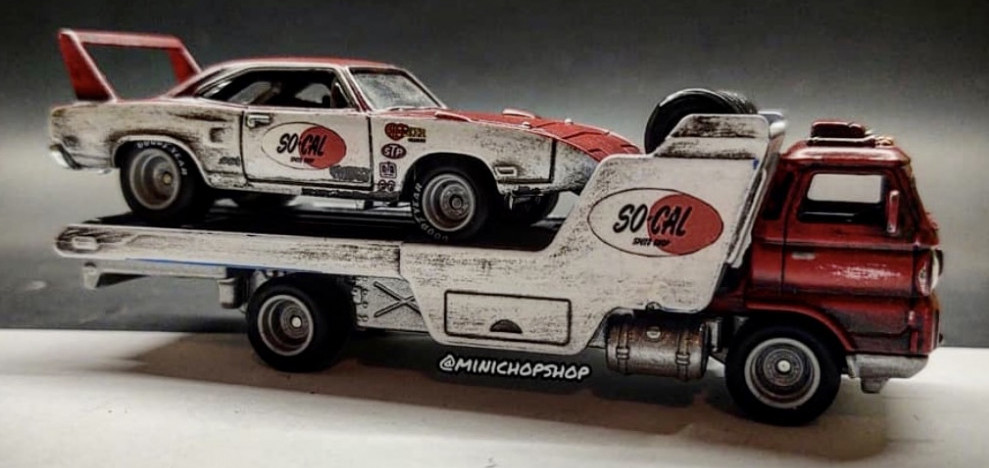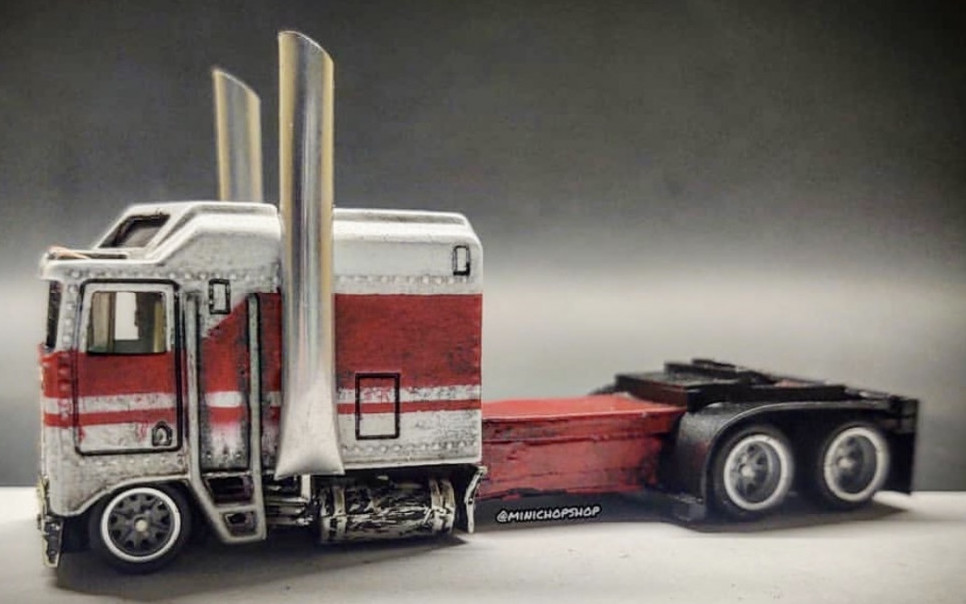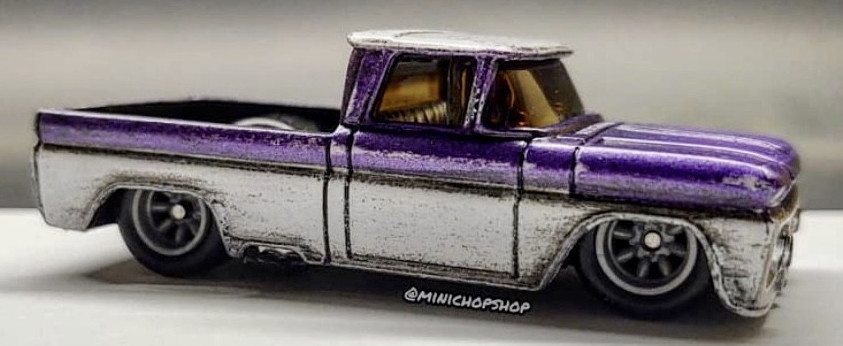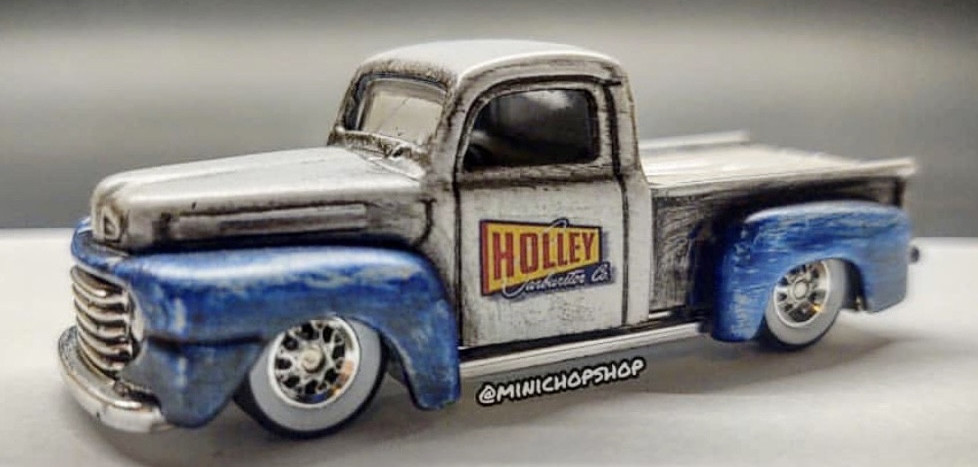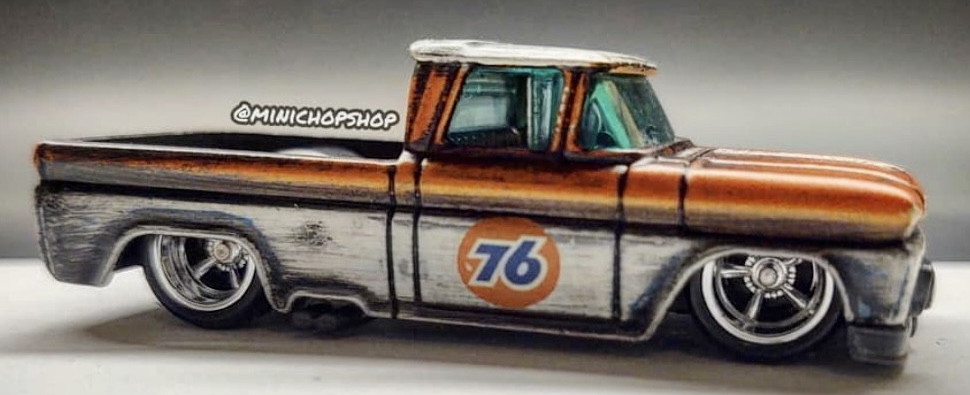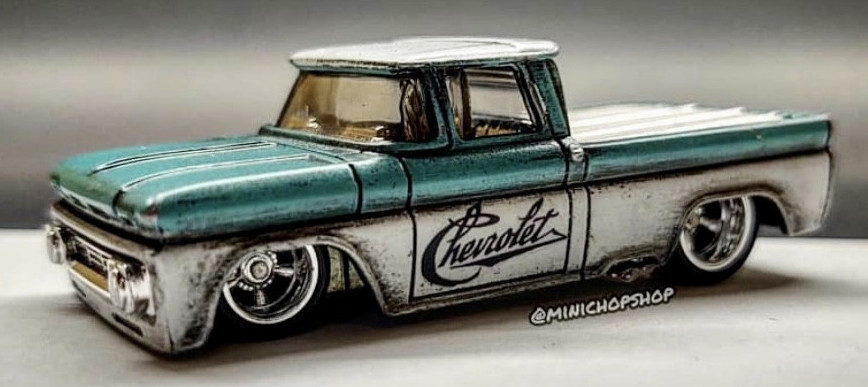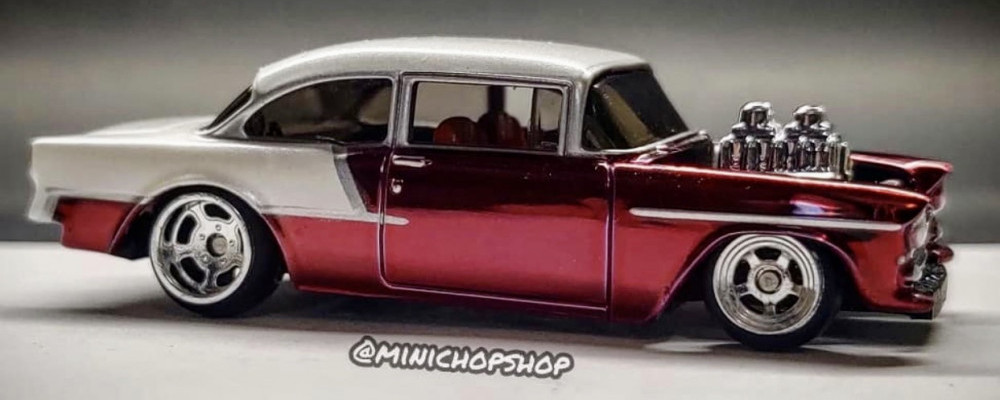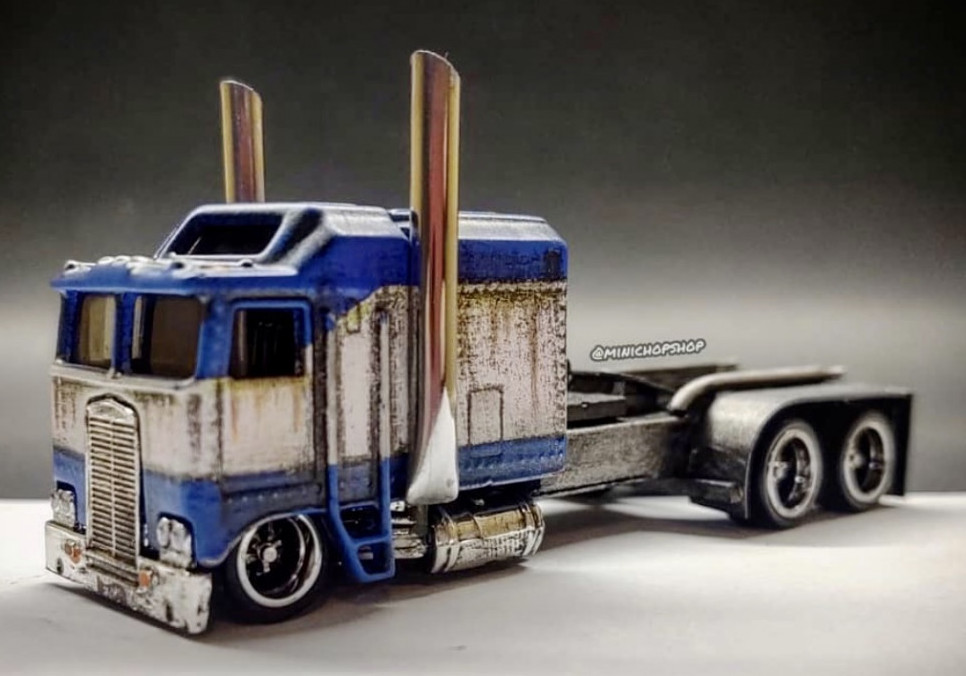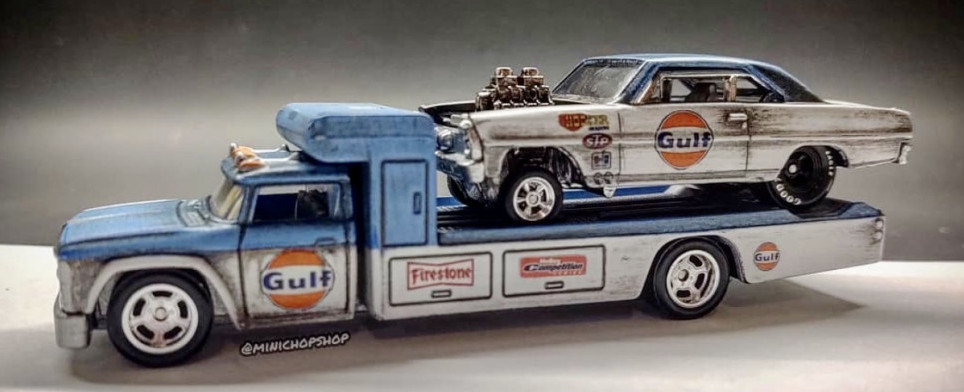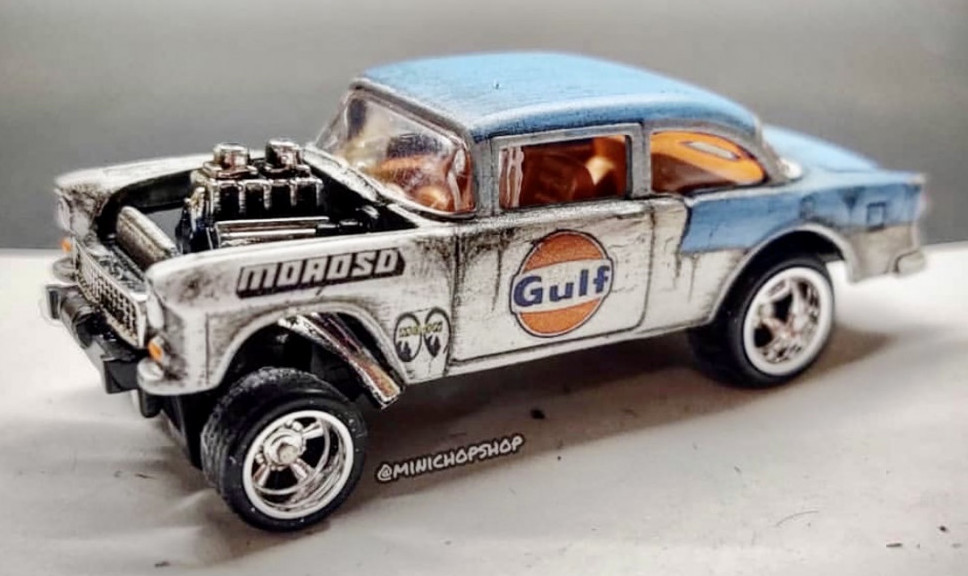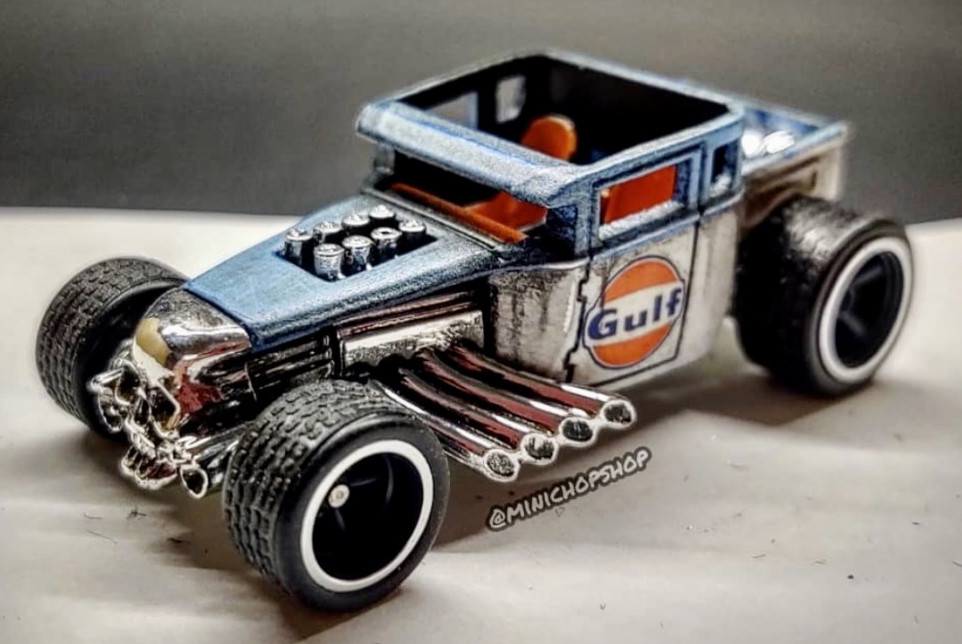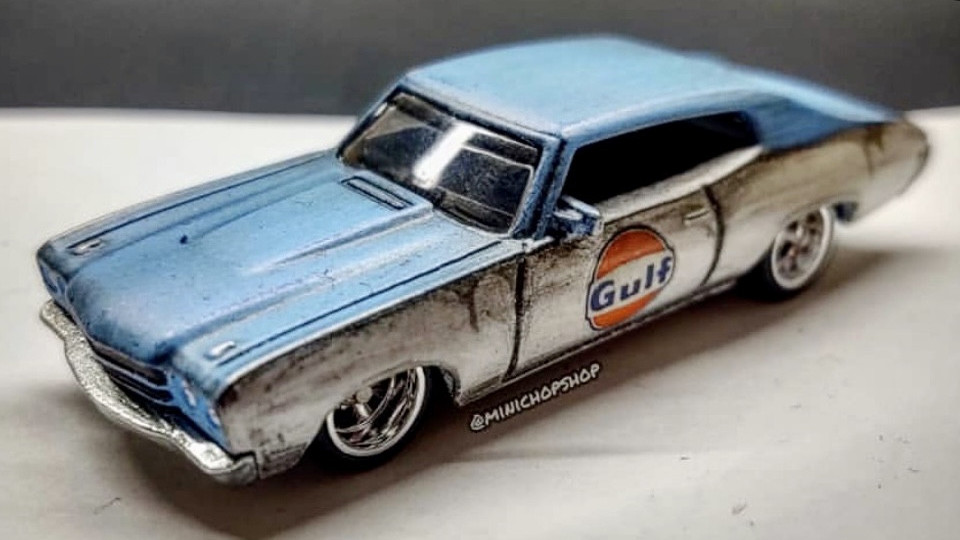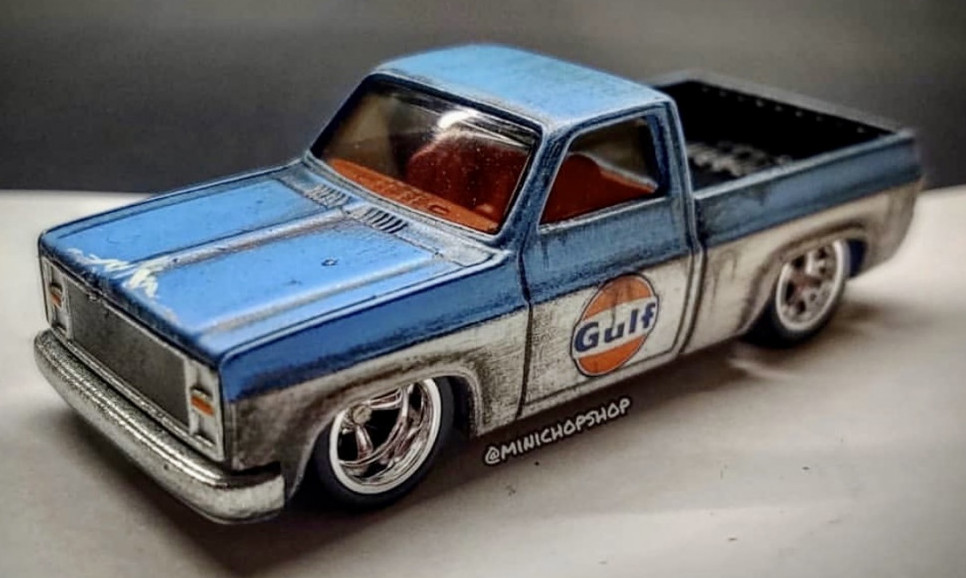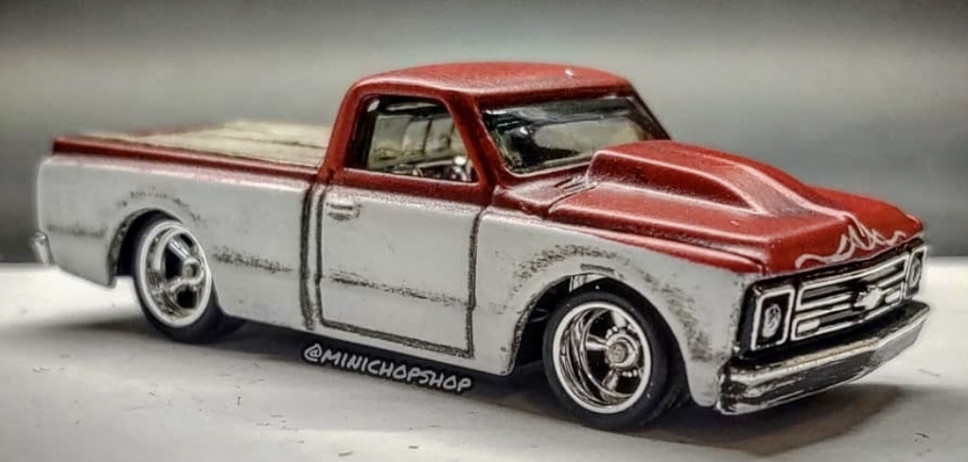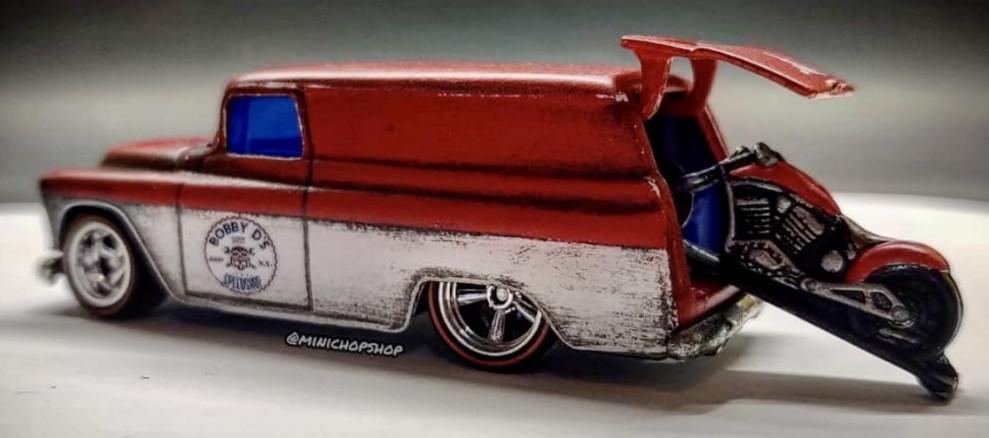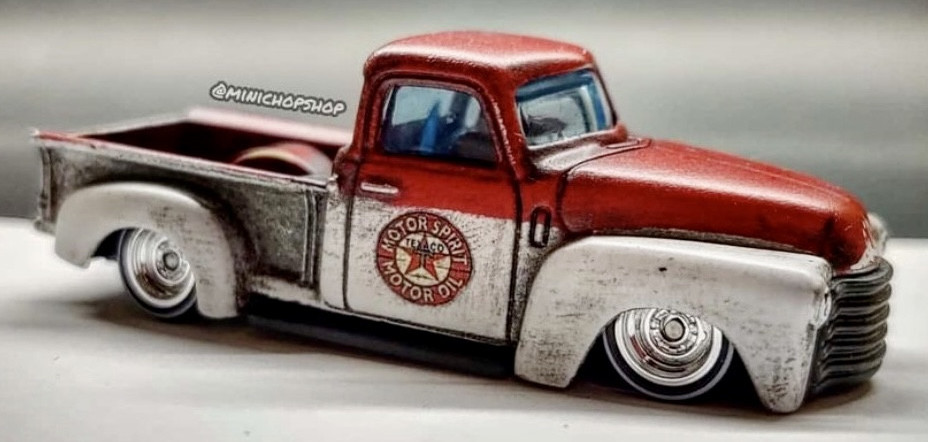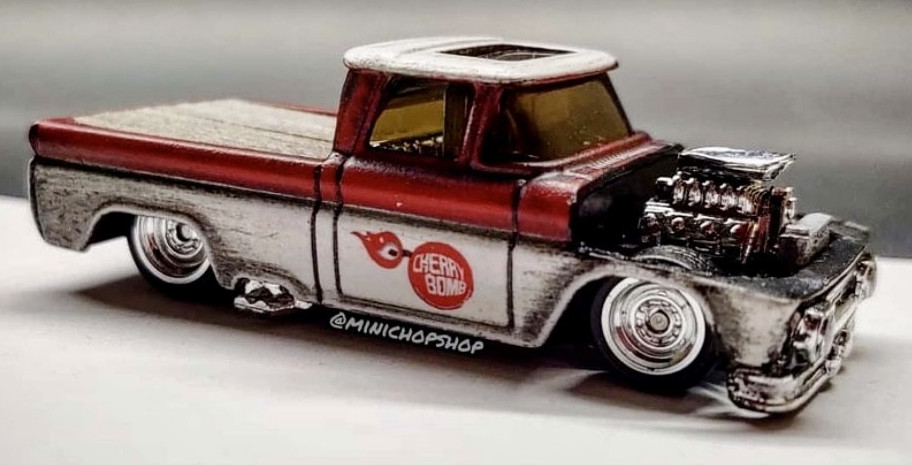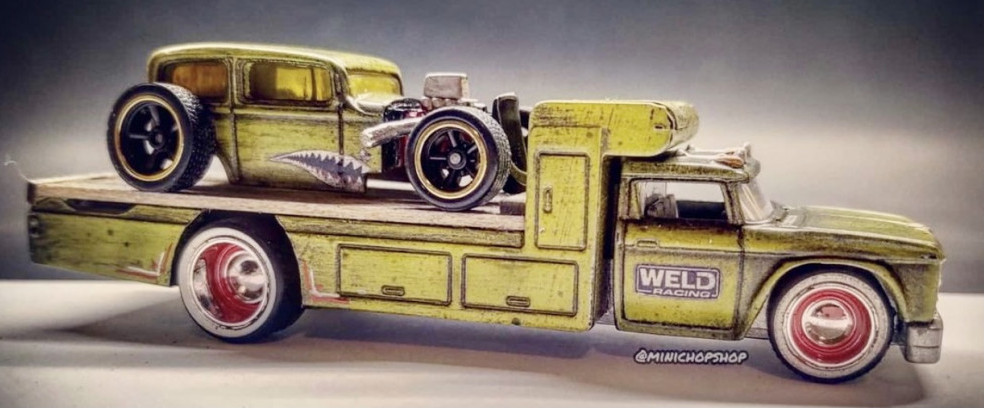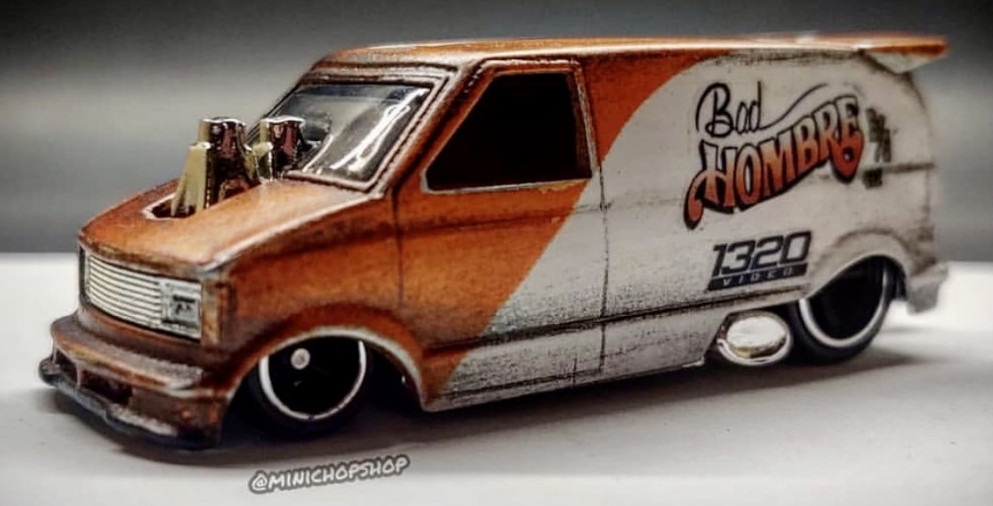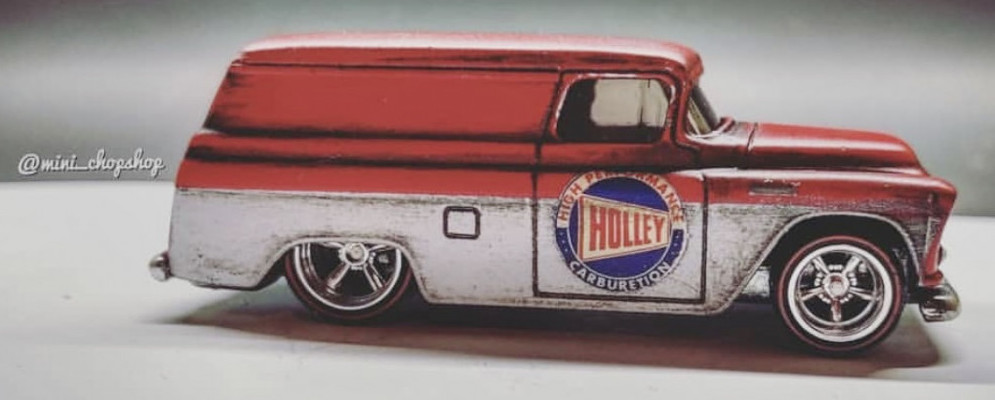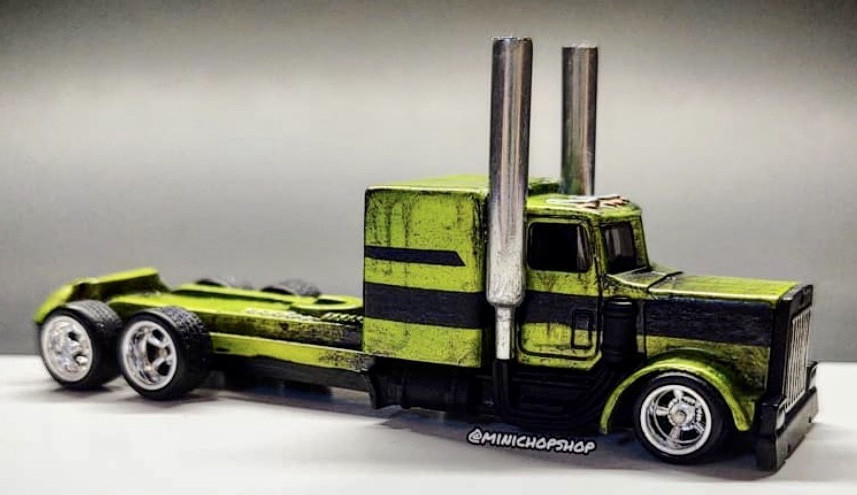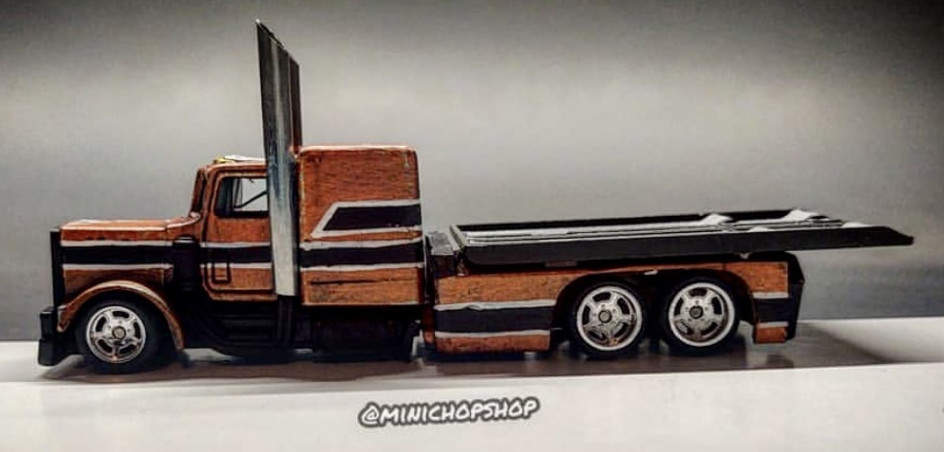 If you see anything on Die Cast Diaries that interests you, please feel free to contact me or any of the contributors to the Die Cast Diaries. We would love to hear from you about the customs, the stories and backgrounds of each contributing customizer, and any feedback you may have regarding the content on the website.  You can reach me, SRQDiecast, directly on all my social media outlets.  You can also leave a comment or feedback here at srqdiecast.com.
Thank you for joining me for another exciting chapter of Die Cast Diaries.  Stay tuned for upcoming chapters with more great interviews and pics of some incredible custom Hot Wheels.